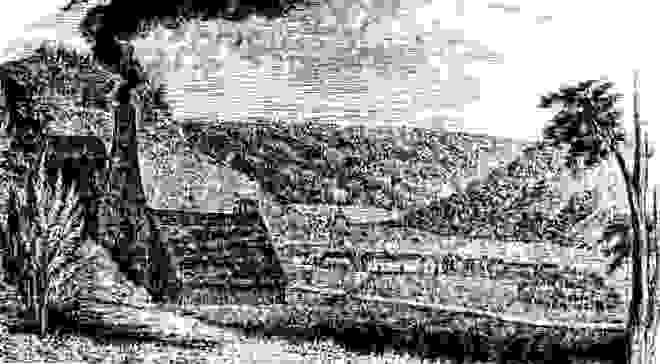 Drawing of Union Furnace by Henry Howe in 1846.
The following was a first hand conversation with a man who worked at Union Furnace as well as others. This was taken in part from the Ironton Register. Mr. Louderback gave this in 1892 while he was 81.
While I was living with Josh Homer at Kelley's Mills on Pine Creek, they began building Union Furnace. It was the first furnace in Lawrence County and it was of the old style. They began to build when I was 14. It was a short distance from my home and so I went to work for them hauling charcoal, Charcoal was then hauled in 150 bushel bed wagons. The wagons were pulled by oxen as there were no mules in the area at that time. James Rodgers, who ran the furnace, was the first man I ever saw who would count five pecks to the bushel. The furnace made about two tons a day. The output on Sunday was run into pigs, but during the week it was made into hollow- ware, stoves and other cast items. I used to skim the molten metal from the hearth and pour it into the molds. I have done that many a time.
---