Charcoal Iron Furnaces of
Lawrence County, Ohio
---
Click on a furnace icon to learn more about that furnace.
(Javascript Required)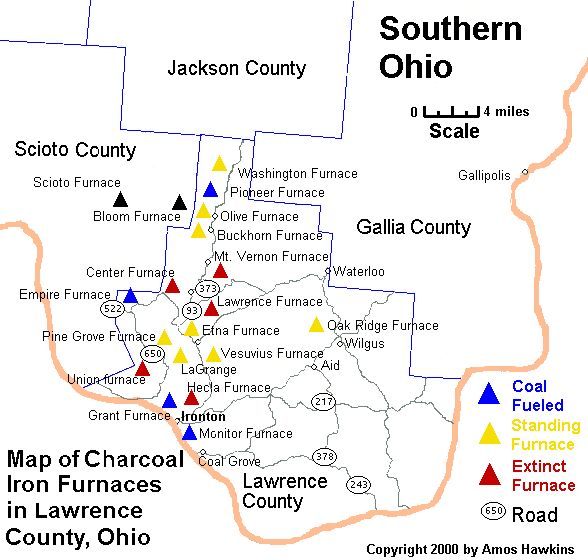 ---
Other Items of Interest
Charcoal Iron Furnaces - How Charcoal Iron Furnaces worked.
Raising Ore in Lawrence County - Mining the raw iron ore.
Forests to Charcoal - How the forest was turned into charcoal.
Vignettes of Southern Ohio - Life in Southern Ohio During the Furnace Years.
History of Mt. Olive Furnace - From its beginings to it's being sold for scrap.
How Mt. Olive Furnace Worked - What went into making iron from ore.
---
The building of Charcoal Iron Furnaces in Lawrence County began with the building of Union Furnace in Elizabeth Township and ended with the building of the Oak Ridge Furnace in Aid Township. These furnaces continued in operation until around the beginning of the 20th century.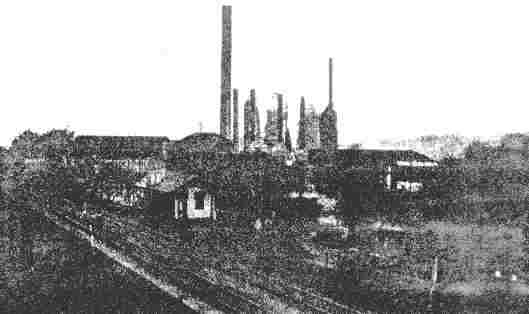 Old photo of Ironton.
---
Lawrence County Facts and Firsts
Ironton was the iron capital of the nation around the Civil War era.

Furnaces in Lawrence County were the first to use the hot air blast.

Furnaces in Lawrence County were the first to close on Sundays.

Hecla Furnace smelted a better grade of iron than that from Toledo, Spain or Damascus, Syria and England bought it during the Crimean War.

The iron from the Hecla furnace was used in the manufacture of the `Swamp Angel' canon of Civil War fame.

Lawrence County had the largest number of charcoal furnaces of any county in the Hanging Rock Iron Region.

A hot blast charcoal furnace used 11,370 cords of wood per year.

A cold blast charcoal furnace used 11,500 cords of wood per year.

This is equal to about 300-350 acres of trees per year.

One cord of wood equals: A stack of wood four feet wide, four feet high and eight feet long.

---
Web Page design by Dennis Hawkins
Copyright 2006 by Amos Hawkins
Visitor Number:

Date:
Time: EST